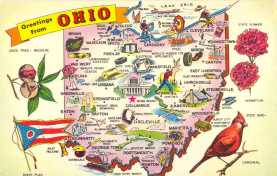 Click on image to view full size.
Most post cards in this section are part of my personal collection. Enjoy them. Whenever possible I've included the date the card was mailed or made. Unused cards may have a time period included [ca. = about] which indicates the period when that type of postcard was in use. Visit often as the collection will continue to grow.
Animated bullet (

) indicates new postcard(s) added during the past 90 days.
Home | Ohio Counties | Ohio Biograpies | What's New?
Ohio's Fallen Officers | Ohio Military | Ohio Photo Album
Vintage Ohio Postcards | Crime & Punishment | Early Institutions
Ohio Fun Facts | Lookup Volunteers | Ohio Resources
---
Copyright © 2004-2017
No copyright is claimed on non-original or licensed material.

The names American Local History Network, ALHN and AMLHIST are trademarksTM
of the American Local History Network, Inc.