Early Franklin County Homesteads
Originally published in the Franklin County Historical Society Bulletin about 1950
Every effort has been made to locate any possible copyright holder; none has been located.
No copyright infringement is intended.
---
THE ARCHIBALD SMITH HOMESTEAD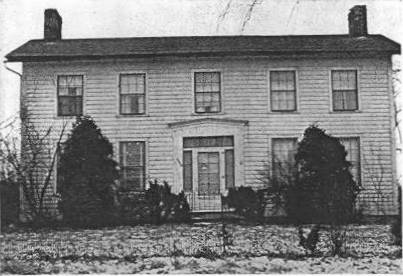 The Archibald Smith homestead reflects an architectural pattern that was
popular in the 1840's.
This century old homestead is located at 6320 Kitzmiller Road, about one mile east of New Albany in Plain Township. It was built by Archibald Smith, architect-carpenter. in 1848 out of lumber secured from timber from his own farm and sawed in his own sawmill.

The home. a two-story frame, stands in a picturesque spot on the right bank of Blacklick Creek. It is a building that reflects much of our pioneer culture and is constructed on a pattern much used in the 1840's. Four large fireplaces must have been sufficient to keep the house warm. There is a large center hallway from which a circular stairs leads to the second story. Mr. Smith must have designed and built this stairway. A diary which he kept for many years contains this interesting comment about the building of the home:

"In the year 1848 built our house. I sawed all the lumber myself. Had it laid up two or three years. Had the stone and brick on the ground also. I laid out all the work of the frame myself. Had it inclosed before winter set in. (A very good job.) January 1849 we moved in our house. I worked on the inside of the house all winter. I made most of the doors and all the cupboards and closets."

7