Owner/Contributor:

Ross Jackson




Arthur Lewis Jackson, Brother of James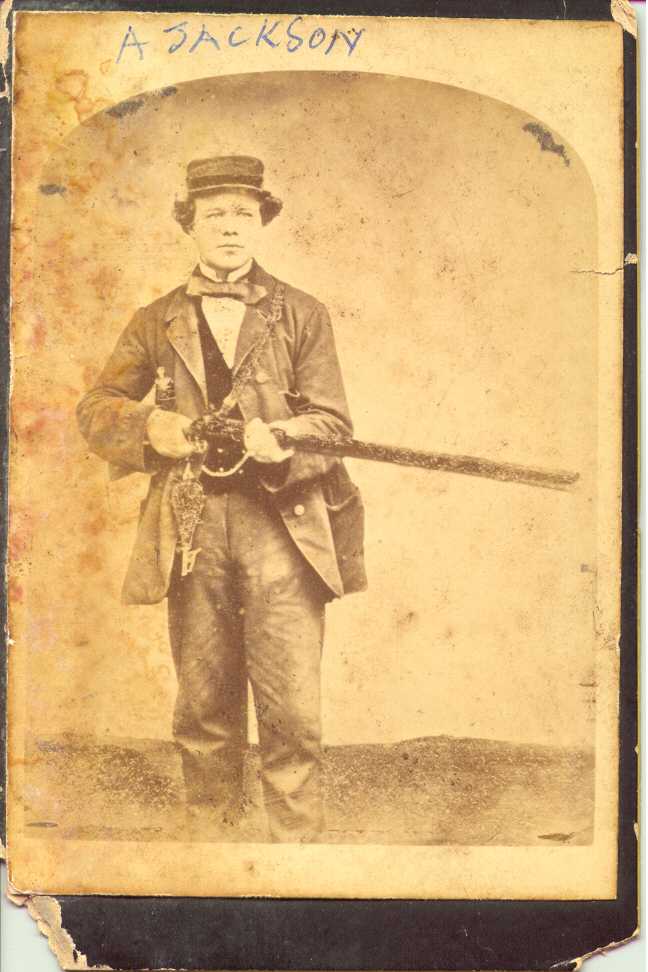 Arthur Lewis Jackson, son of William Henry Jackson and Mary Ann White, may have come to America from Ireland with his brother James who died at the Battle of Gettysburg during the American Civil War (see also Private James Jackson). The rest of his brothers and sisters went to Australia and became businessmen and and yes, business women.

His brothers and sisters were: Robert Alexander Jackson (my great grand father), William Henry Jackson, James Jackson, Isabella Jane Jackson, Sarah Rebecca Jackson, Frank Jackson, Sydney (Sidney) Jackson, and John Jackson.
---
Contributed for use by the OHIO ALHN. These electronic photographs may NOT be reproduced in any format for profit or presentation by other organizations or persons. Persons or organizations desiring to use this material, must obtain the written consent of the contributor, or the legal representative of the contributor, and contact the listed webmaster with proof of this consent. The submitter has given permission to the OHIO ALHN to store the file permanently for free access.
---
Return to Hamilton County Index
Return to Ohio ALHN Photo Album
Home | Ohio Counties | Ohio Biograpies | What's New?
Ohio's Fallen Officers | Ohio Military | Ohio Photo Album
Vintage Ohio Postcards | Crime & Punishment | Early Institutions
Ohio Fun Facts | Lookup Volunteers | Ohio Resources
---


Copyright © 2004-2017
No copyright is claimed on non-original or licensed material.

The names American Local History Network, ALHN and AMLHIST are trademarksTM
of the American Local History Network, Inc.