Early Franklin County Homesteads
Originally published in the Franklin County Historical Society Bulletin about 1950
Every effort has been made to locate any possible copyright holder; none has been located.
No copyright infringement is intended.
---
THE UNIQUE BRECKENRIDGE FARM COTTAGE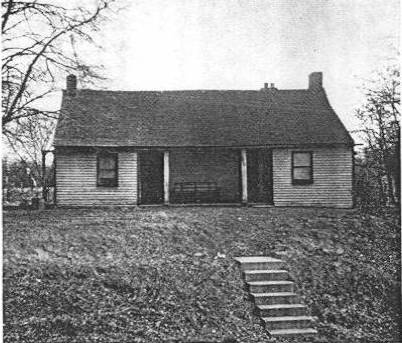 A recessed porch with flanking pavilions all pulled together by a low-
pitched hip roof make this a unique farm house.
The old Isaac Breckenridge farm cottage, built in the 1840's, is located at No. 4552 Jackson Pike, some two miles South of the Columbus Workhouse.

The frame cottage was built by Isaac Breckenridge between 1830 and 1840 on a farm which, measured by the usual agricultural standards, is composed of rough and uneven land. Still some of the small fields are quite fertile. The simple composition of a central recessed porch with flanking pavilions, all pulled together by a low-pitched hip roof. makes it a very unique farm house and the only one of its kind in the county. There is only one other in the State as far as can be learned. This stands near Windsor, Ohio, and is almost an exact duplicate of the Breckenridge house.

The original owner of the land was Capt. Strothers Jones who was allotted 1.000 acres of land in the Virginia Military district for his Revolutionary services. The present owner is Clarence D. Borrer, whose forebears on either side were pioneer settlers of Franklin County.

22