St. Michael's-Bickel Cemetery
Baltimore, Liberty Township,
Fairfield County, Ohio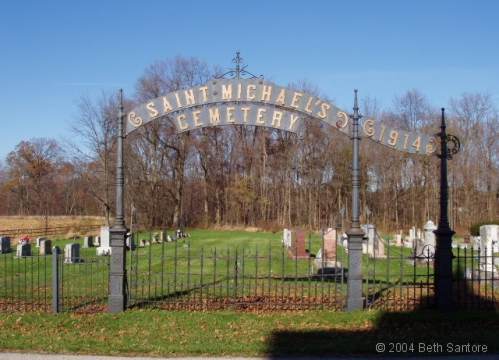 Gravestone Photographs
This cemetery is located on the north side of Bickel Church Road, between Snyder Church Road and Basil Road. Across the road from the cemetery stands Saint Michael's Church. The cemetery appears to be well kept and obvious repairs have been made on broken stones. Photos on this page were taken and contributed by Beth Santore, webmaster of Grave Addiction (www.graveaddiction.com).

I will be happy to add photos taken by anyone who would like to contribute them. Please write to Leona at .
Gravestones:
(Click on the underlined name to download the tombstone photograph)
Pfaff
Poff

Caroline, dau of J & S, died Sept 28, 1861, aged 17 ys 10 mo 28 ds (Whole stone)
John, died Sept 15, 1859, aged 50 ys 9 mo 3 d; J. Strickler, Columbus, Ohio [stone mason]
John, son of J & S, died Nov 28, 1853, aged 12 y 5 m 11 d
Urben
Urbin, Elizabeth, wife of John P., died June 13, 1870 aged 34 [?] yrs 4 mo & 9 ds

Delaware County, Ohio Cemetery Photos
Fairfield County Cemetery Photos
Franklin County, Ohio Cemetery Photos, &c.
Licking County Cemetery Photos
Madison County Cemetery Photos
Pickaway County Cemetery Photos
Union County, Ohio Cemetery Photos

This page is owned & maintained by


Gustafson - Wichmann Ancestry
---
NOTICE: These electronic photographs may NOT be reproduced in any format for profit or presentation by any organizations or persons. Persons or organizations desiring to use this material, must obtain the written consent of the .