Mount Hermon Cemetery
Ashville, Walnut Township,
Pickaway County, Ohio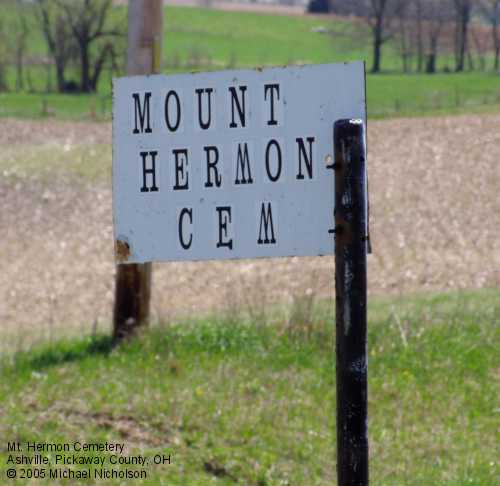 Gravestone Photographs
Mount Hermon Cemetery is located on the west side of Walnut Creek Pike (County Road 7) about one tenth (.1) mile north of County Road 32.

If you have photos taken at this cemetery and would like to share them, please, write to me at .
Photographs for this page were contributed by:
Joe Groom (jg)
Michael Nicholson (mn)

Gravestones
(Click on the underlined name to download the tombstone photograph)
NOTE: HRD = High Resolution Detail--due to the size of the photo file it could take extra time to open, especially for those with dialup modems.
Groom, Benj., CO I, 180 OHIO INF (jg)
Williamson

Elisabeth, wife of Hiram, died Apr 3, [broken] (mn)
William J., died May 4, 1852, aged 38 yrs (mn)

Delaware County, Ohio Cemetery Photos
Fairfield County Cemetery Photos
Franklin County, Ohio Cemetery Photos, &c.
Licking County Cemetery Photos
Madison County Cemetery Photos
Pickaway County Cemetery Photos
Union County, Ohio Cemetery Photos

A This page is owned & maintained by


Gustafson - Wichmann Ancestry
---
NOTICE: These electronic photographs may NOT be reproduced in any format for profit or presentation by any organizations or persons. Persons or organizations desiring to use this material, must obtain the written consent of the .