THE Ohio Hospital for Epileptics at Gallipolis is the pioneer of its kind in the United States.
The problem of providing proper accommodations for epileptics, especially for those with unsound or defective minds, has engrossed the attention of persons interested in nervous and mental diseases for many years. In Ohio, as far back as 1879, a bill for the establishment of a separate institution for their accommodation and treatment almost became a law enacted providing for the establishment of a hospital for epileptics and epileptic insane. All epileptics resident in Ohio are eligible for admission to this institution, up to the measure of its capacity, each county being entitled to a number proportionate to its population. No discrimination is made on account of metal condition, age or sex.
The buildings, as originally planned, consisted of stone cottages having a capacity of fifty beds each, located symmetrically about a group of executive buildings and connected by tunnels with a central powerhouse, which was to furnish heat and light for all, and a central kitchen and bakery, flanked by two congregate dining-rooms, one for each sex. The whole group, with estimated accommodations for one thousand patients, was planned so compactly as to cover scarcely more than twenty-five acres, leaving the balance of one hundred acres of the original tract for ornamentation and gardens. The wisdom of this plan was seriously questioned, and subsequent experience and events have led to an entire modification of it, so far as practicable. Of the original thirty-six buildings, only thirteen have been built as designed. The location and design of six others, now nearly completed, have been materially changed. One hundred and twenty-five additional acres of land have been purchased, and a cottage for the insane constructed at a distance of one-half mile from the original group. Other buildings, projected for the future, are to be much farther away, their precise location depending upon the possibilities in the selection and purchase of land, which may or may not adjoin the tract now owned by the state.
A board of construction was appointed in 1890, which consisted of James E. Neal, of Hamilton; John E. Vance, of Gallipolis; George H. Bunnell, of Sidney; Lewis Slusser, of Canton.
The hospital was opened for the reception of patients, November 30, 1893. Six more cottages have since been erected, and when the buildings new in course of construction are completed, which will be during the present year (1891), accommodations will have been made for 1,060 patients. The buildings will then consist of thirteen residence cottages, with from fifty to seventy-six beds each; one laundry cottage for seventy-five patients; one cottage for the insane, with a capacity of 200; one schoolhouse; two industrial buildings, each containing eight large well-lighted and well-ventilated rooms, accommodating twenty-five patients each—in any of the manual industries commonly followed; one kitchen and bakery building; one ice machine and cold storage building, with a capacity of eighteen tons daily; two large congregate dining-rooms; one boiler, power, and electric light building; one waterworks building; one hospital building; accommodating sixty, and one administration building. The cost of the buildings, up to the time when those under way shall have been completed, will be $565,000.
Many of the patients came from almshouses, many from the lower walks of life, and were uncouth in their manners and dress, filthy in their habits, and rude in their conversation. The improvement most noticed by visitors has been the wonderful change in their deportment.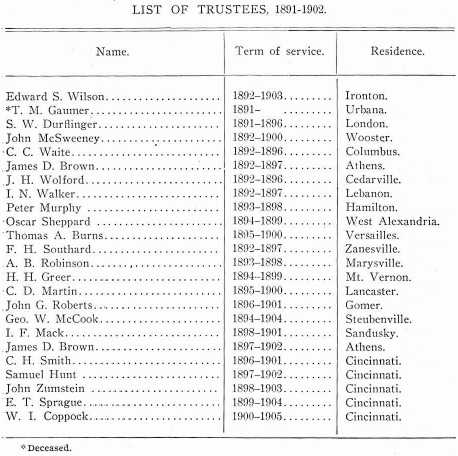 ---