THE Ohio Institution for the Education of the Blind was founded by act of the Legislature in 1837. It was the fourth in order of establishment in the United States. In 1839 the first building was occupied. The structure cost the state $34,409 and was designed to accommodate sixty pupils. The present house was occupied May 21, 1874. This building cost at first, exclusive of additions, $358,477.92 and was intended to accommodate three hundred pupils. Later additions have been made increasing its capacity. The first year in the history of the institution there were eleven pupils enrolled. Last year there were 339 in attendance. Since the establishment of the institution, 64 years ago, 2,058 pupils have been enrolled.
The cost of maintenance from the beginning to November 15, 1900, was $1,828,390.32. Probably $600,000 have been invested in permanent buildings and improvements, making a total expenditure of about $2,428,390.00:—
The average cost to the state for each pupil has been about $1,179.00.
This Institution is a School for the Education of the Blind, not an Asylum, and it has been the endeavor of the management of the Institution to keep this object before the public and not allow the Institution to become an infirmary.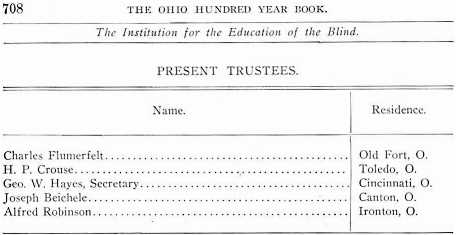 The chief officers of the Institution are: G. L. Smead, Superintendent; R. W. Bell, Steward.
At the present there are 24 teachers employed in the Institution; 11 in the Literary Department, 9 in Music, and 4 in the Industrial Department.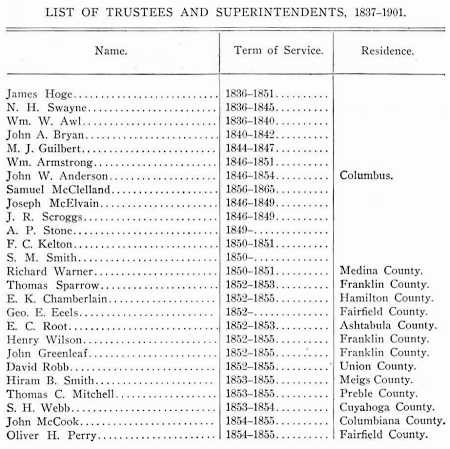 ---