© 2004-2017 David K. & Leona L. Gustafson
Somerford Cemetery
Somerford Township,
Madison County, Ohio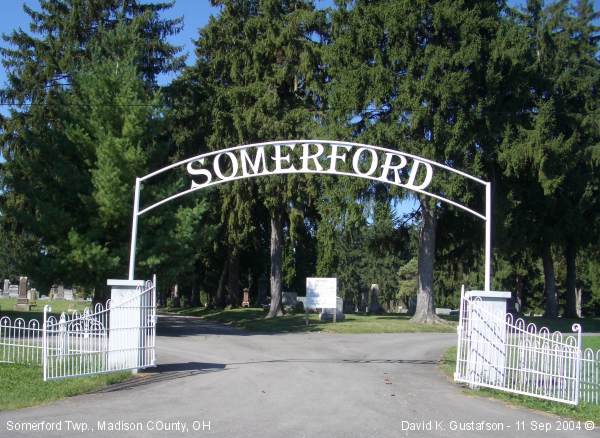 Gravestone Photographs
Somerford Cemetery is located on the west side of State Route 56 (Urbana-London Road) just north of I-70 (exit 72), and is clearly visible from the highway. It is extremely well cared for. There was a resident cat who came out to welcome us and show us around the gravestones; he, too, was well cared for.

I will be happy to include photos contributed by visitors to this site. Please contact Leona at to find out how to contribute your photos.

If you don't find your family member here you might want to try Find A Grave.
(Click on the underlined name to download the tombstone photograph)
Colwell (Contact Sheri at )

Addison, Ohio, US Navy, Apr 12, 1902-Aug 24, 1973 [Section 1 Lot 62]
Charles Isaac "Ike," 1867-1945 [Section 2 Lot 91; no stone]
Emma Eveline "Eva," 1871-1940 [Section 2 Lot 91; no stone]
Harry Charles, 1897-1977 [Section 2 Lot 89; no stone]
Son, Harry Junior, 1930-1945 [Section 3]
Ina M. "Goldie" (Tisdale), 1901-1967 [Section 2 Lot 89; no stone]
Judy Ann, 1958-1960 [Section 2 Lot 89; no stone]
Kenneth "Bud", 1911-1985 [Section 6 Lot 15]
Lorna R. (McQuirt), 1904-1939 [Section 2 Lot 89; no stone]
Max I. (Mickey), Feb 7, 1949-Sept 6, 1949, son of Bill & Ruth [Section 1 Lot 62]
Ruth Leona (Twombley), 1907-1993 [No stone]
William Theodore "Bill," 1909-1992 [No stone]
Henry (Contact Sheri at )

Enoch L., 1842-1875 [Section 3 Lot 10; no stone]
Robert L., Sept 12, 1936-[blank], married Sept 7, 1959, A. Lorraine, Apr 6, 1937-Jan 21, 2004-2005
Robert M., 1906-1979

Hollar, Mathias, 1871-1910 and Dorothy G., 1905-1908
Jones, Charles E., 1913-1971 and Walter C., 1916-1943 [Contributed by: ]

Walter C. Jones, husband of Geneva (Wrightsel) Jones and father of Christina L. Jones,
was killed in an accident, along with his wife, on December 25, 1943. Walter was the son of
John W. Jones who is also buried at Somerford Cemetery.
Maerzke, Violet Marie (Roberts), 1891-1950 [Section 2 Lot 91; no stone] (Contact Sheri at )
Nelson, Tophal, May 22, 1923-Dec 21,1991 (Obituary: no photo)
Painter, Rita Sue, March 25, 1949-Oct 15, 1949
Prettyman, Doris E., wife of Robert, 1943-1991 [Section 1 Lot 61]

Delaware County, Ohio Cemetery Photos
Fairfield County Cemetery Photos
Franklin County, Ohio Cemetery Photos, &c.
Licking County Cemetery Photos
Madison County Cemetery Photos
Pickaway County Cemetery Photos
Union County, Ohio Cemetery Photos

This page is owned & maintained by


Gustafson - Wichmann Ancestry
---
NOTICE: These electronic photographs may NOT be reproduced in any format for profit or presentation by any organizations or persons. Persons or organizations desiring to use this material, must obtain the written consent of the .