© 2007-2017 David K. & Leona L. Gustafson
Sharon Mennonite Cemetery
Canaan Township,
Madison County, Ohio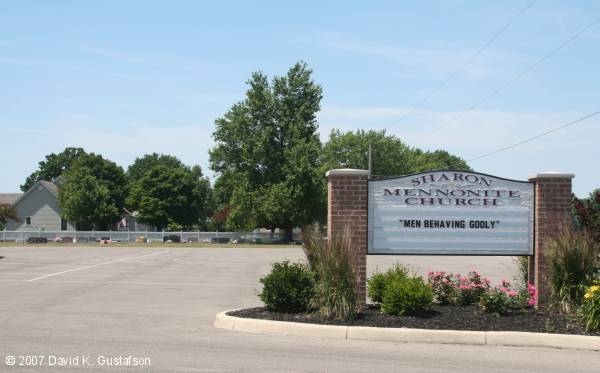 Gravestone Photographs
Sharon Mennonite Church and Cemetery are located on Amity Pike between U. S. Route 42 and Plain City-Georgesville Road in rural Canaan Township. The address is 7675 Amity Pike, Plain City, Ohio 43064. The earliest interment appears to have taken place in 1939. The photographs on this page are a complete photographic inventory of all gravestones at the cemetery.

Gravestones: | A | B | C | D | E | F | G | H | I | J | K | L | M | N | O | P | Q | R | S | T | U | V | W | X | Y | Z |
(Click on the underlined name to download the tombstone photograph)
Hassel, "Buffy" Buffanna Chantile, June 12-Sept 1, 1973
Headings
Hostetler

Cheryl Ann, dau of Abe & Mary, Dec 28, 1946-Oct 3, 1955
Sheila Renae, daughter of Sam & Alice, May 8, 1956-May 11, 1956
Phillips, Mother, Naomi S., Jun 2, 1918-Feb 26, 1972
Yoder
Yutzy, Alice Frey, Dec 17, 1925-[blank], married Mar 9, 1947, Earl C., Sept 9, 1922-Aug 9, 2006

Delaware County, Ohio Cemetery Photos
Fairfield County Cemetery Photos
Franklin County, Ohio Cemetery Photos, &Etc.
Licking County Cemetery Photos
Madison County Cemetery Photos
Pickaway County Cemetery Photos
Union County, Ohio Cemetery Photos

All photographs taken by David K. Gustafson unless otherwise noted
This page is owned & maintained by


Gustafson - Wichmann Ancestry
---
NOTICE: These electronic photographs may NOT be reproduced in any format for profit or presentation by any organizations or persons. Persons or organizations desiring to use this material, must obtain the written consent of the .