© 2006-2017 David K. & Leona L. Gustafson
Lily Chapel Cemetery
(AKA Jackson Cemetery)
Fairfield Township,
Madison County, Ohio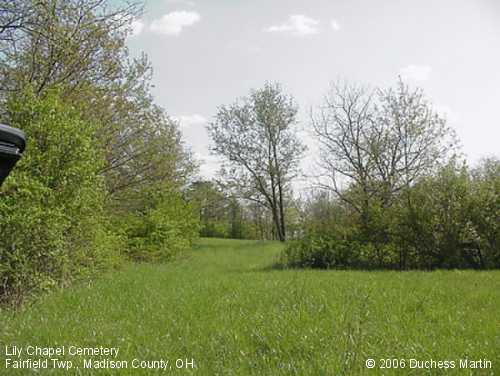 Gravestone Photographs
Liley Chapel Cemetery can only be described as an abandoned cemetery. It is located in a field on private property, though the Fairfield Township Trustees usually mow in about twice a year. No mowing had been done when these photos were taken on April 29, 2006. The only visible stones, mostly broken and heaped in a pile, were for members of the Jackson family and one for a Shaffer child. It is possible that two DUNLOP children (infants or toddlers) were buried at this cemetery sometime between about 1863 and 1870. According to Earl Ballenger of the Madison County Genealogical Society, the cemetery was calle Jackson Cemetery on the 1862 plat map of the area. If anyone knows of an existing index of those buried at Lily Chapel Cemetery I would appreciate it if you would contact me with the information--write to Leona at .

Please contact Leona at to find out how to contribute your photos for any Madison County cemetery, or to request that we take photographs for you.

Gravestones:
(Click on the underlined name to download the tombstone photograph)
Shaffer, Little Arthur, son of J W & A, died Oct 16, 1875, aged 1 yr 8 m & 16 d (Whole stone)

Delaware County, Ohio Cemetery Photos
Fairfield County Cemetery Photos
Franklin County, Ohio Cemetery Photos, &Etc.
Licking County Cemetery Photos
Madison County Cemetery Photos
Pickaway County Cemetery Photos
Union County, Ohio Cemetery Photos

This site is owned & maintained by


Gustafson - Wichmann Ancestry
---
NOTICE: These electronic photographs may NOT be reproduced in any format for profit or presentation by any organizations or persons. Persons or organizations desiring to use this material, must obtain the written consent of the .