© 2004-2017 David K. & Leona L. Gustafson
Garrett Cemetery
Dear Creek Township,
Madison County, Ohio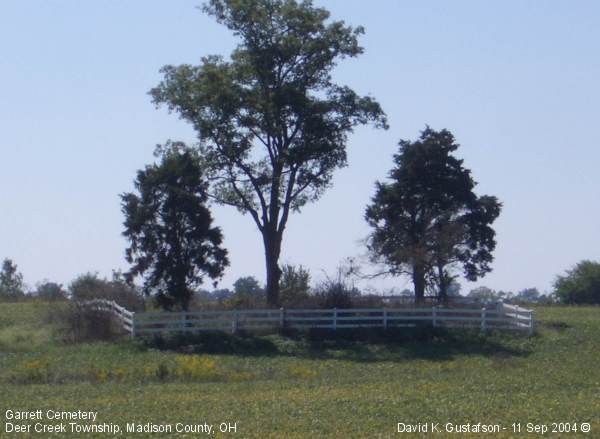 Gravestone Photographs
Garrett Cemetery, surrounded by a white board fence, is located in the middle of a field (soy bean this year), .2 of a mile east of Spring Valley Road just off State Route 142. The photo shown above was taken from the road at maximum zoom. As soon as we learn who owns the land we will try to get permission to photograph any gravestones that can be found in the cemetery.

Delaware County, Ohio Cemetery Photos
Fairfield County Cemetery Photos
Franklin County, Ohio Cemetery Photos, &c.
Licking County Cemetery Photos
Madison County Cemetery Photos
Pickaway County Cemetery Photos
Union County, Ohio Cemetery Photos

This page is owned & maintained by


Gustafson - Wichmann Ancestry
---
NOTICE: These electronic photographs may NOT be reproduced in any format for profit or presentation by any organizations or persons. Persons or organizations desiring to use this material, must obtain the written consent of the .