© 2006-2017 David K. & Leona L. Gustafson
Fitzgerald Cemetery
(AKA Opossum Run Cemetery)
Rural, Fairfield Township,
Madison County, Ohio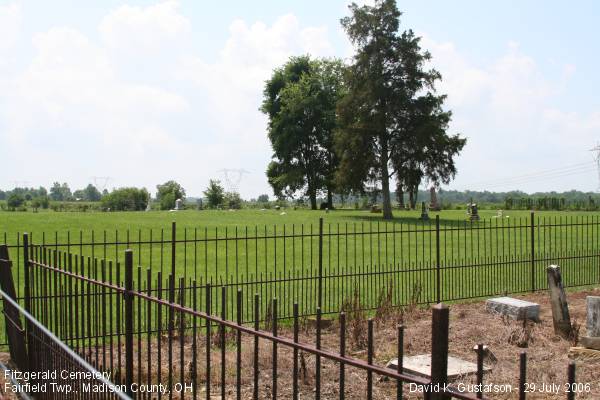 Gravestone Photographs
Fitzgerald Cemetery is in a pasture about twelve miles east and south of London on the south side of Big Plain-Circleville Road. When coming from Darbydale in Franklin County you can reach the cemetery by taking Opossum Run Road southwest out of Darbydale until the road ends (about four miles); turn right (north) onto Big Plain-Circleville Road. The cemetery is easy to see from the road on the left.

A few years ago the cemetery was located in a horse pasture and, though fenced, had suffered considerable damage from horses. The owner of the pasture had obviously attempted to keep the horses out of the graveyard, but, just as obviously, the horses had more than once found their way into the forbidden area. Outside the wrought iron fence surrounding the Fitzgerald family plot, the ground was mostly bare gray-brown earth with the prints of horse hooves pressed deeply into the mud of a recent thaw. Most of the gravestones had been pushed from their foundations and scrapped or chipped by shod horse hooves. When returned on July 29, 2006, we were pleasantly surprised to see that the area was now green and had been recently mowed. The remaining gravestones located outside the Fitzgerald plot were still mostly broken and off their foundations, but some attempt had been made to make them easier to view.

We had to "unearth" some of the stones before we photographed them. That, and the heat of the day (93 degrees) made it impossible for us to finish photographing all of the stones. We plan to return on one of the cooler days of autumn or early winter. In the meantime, I will be happy to add photos contributed by visitors to this site. Please contact Leona at to find out how to contribute your photos. Unfortunately, we were unable to turn most of the toppled gravestones as they were too heavy. There are probably additional names and dates on some that were left unturned.

Gravestones: | A | B | C | D | E | F | G | H | I | J | K | L | M | N | O | P | Q | R | S | T | U | V | W | X | Y | Z | Unknown
(Click on the underlined name to download the tombstone photograph)
NOTE: Some underlined items indicate the Webmaster's "best guess;" and items or comments in brackets [ ] indicate information not included on the stone.

Delaware County, Ohio Cemetery Photos
Fairfield County Cemetery Photos
Franklin County, Ohio Cemetery Photos, &Etc.
Licking County Cemetery Photos
Madison County Cemetery Photos
Pickaway County Cemetery Photos
Union County, Ohio Cemetery Photos

This page is owned & maintained by


Gustafson - Wichmann Ancestry
---
NOTICE: These electronic photographs may NOT be reproduced in any format for profit or presentation by any organizations or persons. Persons or organizations desiring to use this material, must obtain the written consent of the .