© 2006-2017 David K. & Leona L. Gustafson
Dennison Chapel Cemetery
Fairfield Township,
Madison County, Ohio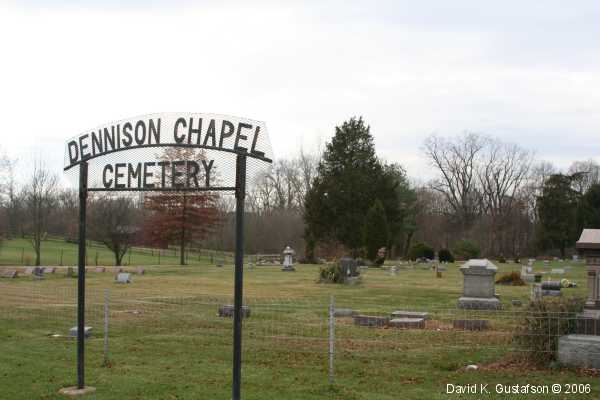 Gravestone Photographs
Dennison Chapel Cemetery, in rural Fairfield Township, is located about 9.6 miles southwest of the intersection of E. Main (US 40) and Walnut Street in West Jefferson. To reach the cemetery follow marked route (in green) on the map through West Jefferson Village to West Jefferson-Kiousville Road (County Road 22). Watch for a road sign showing a sharp right turn followed by a sharp left. The cemetery is on the west side of the road in the middle of the second curve (see map 2). This is an active cemetery and there was evidence of recent interments. The cemetery is well kept though there is evidence of minor vandalism. The gravestones in the section to the right of the gate seem to be the oldest in the cemetery. The photographs listed below represent a small fraction of the gravestones in the cemetery, and there are many places that would seem to be unmarked graves.

I will be happy to include photos contributed by visitors to this site. Please contact Leona at to find out how to contribute your photos.

Some photos on this page were taken by:
Ann Bower DiNicola, (abd)
Cathy Kennard, a descendent of James & Melvina Tracy,
and contributed by: Lois Heath, (lh)
Gravestones:
(Click on the underlined name to download the tombstone photograph)
Murphy, Donald W., Jun 10, 1926-Aug 2. 2004 (Obituary; no photo)

Delaware County, Ohio Cemetery Photos
Fairfield County Cemetery Photos
Franklin County, Ohio Cemetery Photos, &Etc.
Licking County Cemetery Photos
Madison County Cemetery Photos
Pickaway County Cemetery Photos
Union County, Ohio Cemetery Photos

This page is owned & maintained by


Gustafson - Wichmann Ancestry
---
NOTICE: These electronic photographs may NOT be reproduced in any format for profit or presentation by any organizations or persons. Persons or organizations desiring to use this material, must obtain the written consent of the .