© 2006-2017 David K. & Leona L. Gustafson
Bradley Cemetery
(AKA Bill Bradley Cemetery)
Monroe Township,
Madison County, Ohio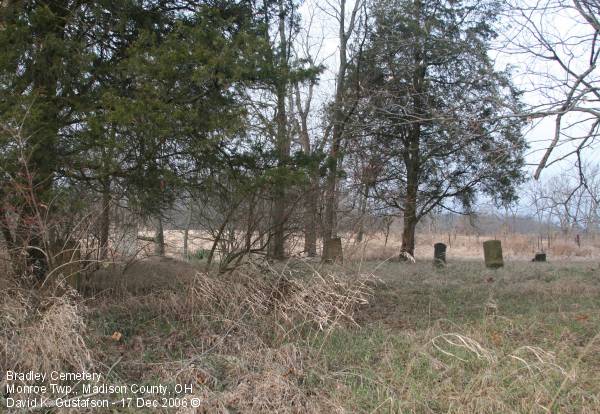 Gravestone Photographs
Located atop a hill on private property, Bradley Cemetery is abandoned and in very poor condition with only a few stones still standing. We spoke to the lady who lives on the property and she told us that the cemetery was originally called the Bill Bradley Graveyard/Cemetery. She had lived in the original homestead until a few years ago when a new house was built just yards away. Looking at the old house it is easy to see that over the years additions were built and the house was modernized over time. Today it stands, like the cemetery, abandoned and delapidated.

I would like to be able to report that the photographs on this page represent a complete inventory of this cemetery, but we saw too much evidence of stones broken and flat on the ground, covered with dirt and vegetation. We did uncover and photograph a few of the hidden stones. However, we didn't have the time or the necessary tools to locate and clear more stones. If the cemetery is ever restored additional stones will most certainly be unearthed.

We took several photos of the cemetery from different angles and there is one that I took as soon as a gravestone became visible on our climb to the cemetery.

Gravestones
Click on the underlined name to download the tombstone photograph.
NOTE: Items underlined in black are the "best guess" of the Webmaster.
Bradley
Byerly

Elias, Oct 29, 1829-July 18, 1886 and Eliza, wife of E, Nov 27, 1837-May 18, 1887 (Whole stone)
John, died Nov 1, 1857 aged ??
Dillow, John, died Nov 8, 1878, aged 78y 10m & 28 d, and on the same stone, Elizabeth, wife of John, died July 3 [or 8 or 9], 1879, aged 70 years (Whole stone)
Tillman

E., wife of H. [Mostly illegible stone; inscribed by hand, it appears to have been inscribed on a military marker.]

Probably Elizabeth Tillman, wife of Henry; she was recorded in the 1850 census as age 44 on 23 Jul 1850 and residing with her husband Henry, age 45.

H., Nov 22, 1805-June 15, 1854 [Probably Henry as mentioned in previous entry]
Thomas (?) L., son of H & E [dates buried]
Woods, In memory of Mary P., wife of Jacob, who died Jan 30, 1844, aged 26 yrs 10 m & 23 days (Whole stone)

Delaware County, Ohio Cemetery Photos
Fairfield County Cemetery Photos
Franklin County, Ohio Cemetery Photos, &Etc.
Licking County Cemetery Photos
Madison County Cemetery Photos
Pickaway County Cemetery Photos
Union County, Ohio Cemetery Photos

This page is owned & maintained by


Gustafson - Wichmann Ancestry
---
NOTICE: These electronic photographs may NOT be reproduced in any format for profit or presentation by any organizations or persons. Persons or organizations desiring to use this material, must obtain the written consent of the .