Early Franklin County Homesteads
Originally published in the Franklin County Historical Society Bulletin about 1950
Every effort has been made to locate any possible copyright holder; none has been located.
No copyright infringement is intended.
---
THE MICHAEL SULLIVANT HOMESTEAD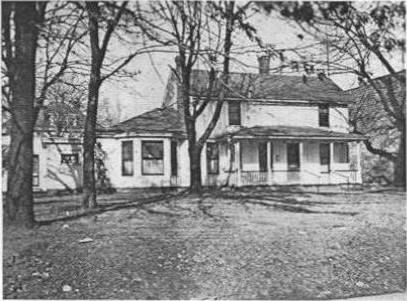 This homestead, demolished last year, was built by Michael Sullivant in
1835. It was one of the oldest on the Hilltop.
Official records indicate that this homestead, which has been replaced by a new U. S. Post Office and official building, was built by Michael Sullivant, son of Lucas Sullivant, Franklinton founder, in 1835. This homestead is known to be the oldest house in the Hilltop vicinity before it was demolished.

Lucas Sullivant, received a patent for 1000 Acres of land in the Virginia Military District from president John Adams on May 14, 1800 In a partition suit of his estate At the April term of the Common Pleas Court of Franklin County in 1827, Michael Sullivant. was allotted a tract of land on the Hilltop which included the present site of the house. On January 17, 1831, Michael Sullivant and his wife, Sarah, executed a construction mortgage on this tract of land. This was probably for the building of the house and for farm buildings which surrounded it.

29