Early Franklin County Homesteads
Originally published in the Franklin County Historical Society Bulletin about 1950
Every effort has been made to locate any possible copyright holder; none has been located.
No copyright infringement is intended.
---
GIDEON HART HOMESTEAD
Blendon Township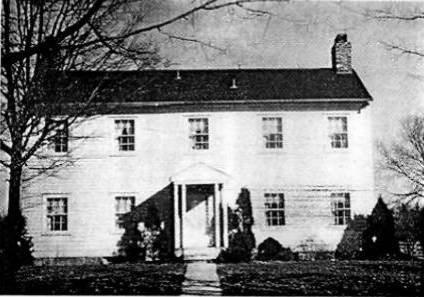 A Revolutionary War relics room was a feature of this home.
One of the well-preserved homesteads of the county is the Gideon Hart house at No. 7328 Hempsted road. Blendon Township. It was built by Mr. Hart who came to Ohio from Connecticut about 1820. He was a township official as early as 1828.

The house gains dignity from the grove-like surroundings and is redolent of fields and flocks. This homestead was in the midst of a fine farm which included many activities, one of which was the large sugar grove with the ever present sugar house which was but recently torn down. An unusual feature of the home was a Revolutionary war relics room, which contained many mementos of that period. A muzzle loading gun and a sword that were formerly in the room are now in the possession of Mr. and Mrs. Harry L. Phelps on the Westerville Road. The location of the other relics is unknown. An immense fireplace. still in use, is another feature of the home. Most of the lumber used in the construction of the house was from timber cut on the farm. The homestead is now owned and occupied by E. G. Fickell, attorney at 44 E. Broad street.

28