Early Franklin County Homesteads
Originally published in the Franklin County Historical Society Bulletin about 1950
Every effort has been made to locate any possible copyright holder; none has been located.
No copyright infringement is intended.
---
THE DR. THOMAS WOODROW HOMESTEAD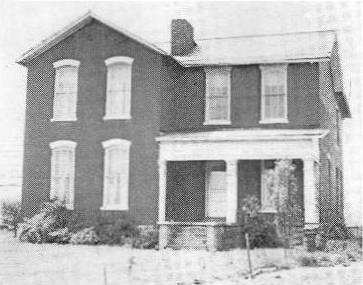 The Dr. Thomas Woodrow homestead was designed as a residence for
a country gentleman.
This homestead on the 3-C's highway near Briggsdale in which Dr. Thomas Woodrow, Woodrow Wilson's grandfather, lived while serving Presbyterian churches in Franklin county

The mansion was erected a century ago and it is still as perfect in construction as it was the day it was finished. There has been no material change in the building, either exterior or interior, its sturdiness show it to be a genuine old-timer. The quiet atmosphere of age which surround it, mark the building as one of the most picturesque in the county. It is said that the plans of the house were designed in accordance with the wishes of the bride, Dr. Woodrow's second wife, who was no less a personage than a Miss Renick of Ross County.

The building was designed as a residence for a country gentleman, although Dr. Woodrow was a Presbyterian minister as well as an argiculturist. It could well be that Woodrow Wilson visited his grandfather in this mansion while a student in college. When President Wilson visited England he made a trip to Carlisle where his grandfather had preached and in a short talk indicated that he had visited his illustrous grandparent.

27