Jane Robinson Reed
Contributor: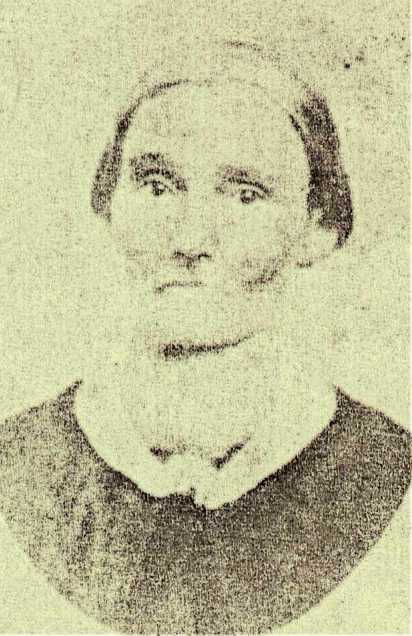 Jane Robinson was born January 28, 1813 in Darby Township, the seventh child and fifth daughter of Union County pioneers, James and Jane (Morrison) Robinson; Jane spent her whole life in Union County and died February 20, 1871. On August 19, 1830 Jane married Thomas Reed, born November 25, 1802 in Darby Township, son of Samuel Reed and his wife, Elizabeth Leckey, among the earliest settlers of Union County. Thomas Reed died October 25, 1862. Jane Robinson Reed is buried next to her husband in Woods-Reed Cemetery, Darby Township, Union County.

Jane was the mother of ten children, four of whom are pictured on these pages. All born Union County, Ohio:

1. Matthew Gooding Reed, born 31 Oct 1831, died 15 Aug 1902 (see photo)
2. Mariah H. Reed, born 26 Feb 1835, died 24 Feb 1910, Union County, married, 13 Apr 1867, James A. Devier.
3. Adeline Reed, born 27 Feb 1837, died 13 Feb 1882, Otoe County, Nebraska, married 21 Oct 1861, Milton A. Orahood.
4. David Silvera Reed, born 4 Jan 1840, died 11 Dec 1919 (see photo)
5. Stephanus "Fan" Reed, born 7 Feb 1842, died 29 May 1922, Otoe County, Nebraska, married 1 Jul 1869, Otoe County, Nebraska to Ann Elizabeth Morris.
6. Hiram Reed, born 2 Apr 1844, died 21 Feb 1929, Union County (see photo)
7. Hester Ann Reed, born 19 Aug 1846, died 22 Dec 1884, Otoe County, Nebraska (see photo)
8. Rebecca J. Reed, born 11 Mar 1849, died unmarried 27 Mar 1876, Otoe County, Nebraska
9. John A. Reed, born 15 Aug 1851, died 5 Sep 1923 at Logan, Phillips County, Kansas, married 10 Sep 1874 at Syracuse, Otoe County, Nebraska to Mary Agnes Vose
10. Martha Flora Reed, born 15 Jul 1855, died 10 Oct 1911 in Otoe County, Nebraska (see photo)

I will be happy to share and exchange information about this family.
---
Contributed for use by the OHIO ALHN. These electronic photographs may NOT be reproduced in any format for profit or presentation by other organizations or persons. Persons or organizations desiring to use this material, must obtain the written consent of the contributor, or the legal representative of the contributor, and contact the listed webmaster with proof of this consent. The submitter has given permission to the OHIO ALHN to store the file permanently for free access.
---
Return to Union County Index
Return to Ohio ALHN Photo Album