Owner/Contributor:

Laurie L. Dunham

http://freepages.genealogy.rootsweb.com/~teeterkinmy/index.html

The James Black Family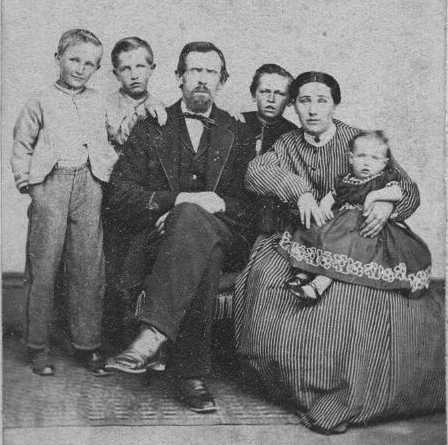 James Black and wife, Minerva Jane (Reynolds), seated; and
children, William, Frank (1863 OH-1927 CA), Hiram, and Clara
In looking at the picture, I would have to say that the vintage of it appears to be about 1873 based upon my great grampa Frank's birth date being 1863 Feb, and his age at that time (appearing to be about age 8 or 9), he being the 2nd child from the left next to his pop, James. And at that time, they probably were still living in Montgomery Co at Dayton, having come from Greene Co and prior to that Montgomery and then after 1882 or later, they are in Darke Co. During all these times, it appears that some of the children went to live elsewhere or worked elsewhere, as they did back then. At any rate, the back of the photo says: N.C. Sanborn, photographer, 5 Merriman St. :: ::: Lowell :: Mass.

Additional information as per census records:

1850: Del Co OH : James Black bc OH 1836

1860: Montgomery Co OH Wayne Twp Taylorsville: James Black 27 b 1834 OH; Vera (Minerva) 22 bc 1839; William H 4 born 1856; and Hiram 2 born 1858. Next them live Ephraim Wilson and family. Believe that Minerva Jane Reynolds Black, w/o James, was d/o of Thomas and Mary Wilson Reynolds.

1870: Greene Co OH Cedarville: James Black 36 b 1834 OH; Minerva 30 bc 1839; Hiram b 1858; Clara 9 b 1861; and hskeeper, Kirzeah Carpenter b IN 1811.

1880 Montgomery Co OH Dayton: James Black 43 b 1837 May OH OH PA; Minerva Jane 37 b 1839 vs 1842 OH PA PA; with child Harry (Hiram or is this Wm H) 20 born 1860; and Carrie Ellen (Clara) b 1861 who married 1881 William McConnaughey. My grampa, Frank Black b 1863 is found at Medina Co OH Brunswick, working for the Phelps family and lives with his grama, Elizabeth b 1811 (Eliz Brenner Black, w/o William who died in 1846 (b 1806).

In 1882, James Black is highway supervisor at Wayne Twp, Montgomery Co OH.

And, so it goes, with changes to the family makeup per 1900 when James and Minerva Black are now living at Darke Co OH Mississinawa with Harry b 1859 and wife Eve M (?Howard) and son Andy born 1886 Nov.
---
Contributed for use by the OHIO ALHN. These electronic photographs may NOT be reproduced in any format for profit or presentation by other organizations or persons. Persons or organizations desiring to use this material, must obtain the written consent of the contributor, or the legal representative of the contributor, and contact the listed webmaster with proof of this consent. The submitter has given permission to the OHIO ALHN to store the file permanently for free access.
---
Return to County Index
Return to Ohio ALHN Photo Album