Monuments to the First Church & First Burials in Logan County

Owner & Contributor:
Shirley Penhorwood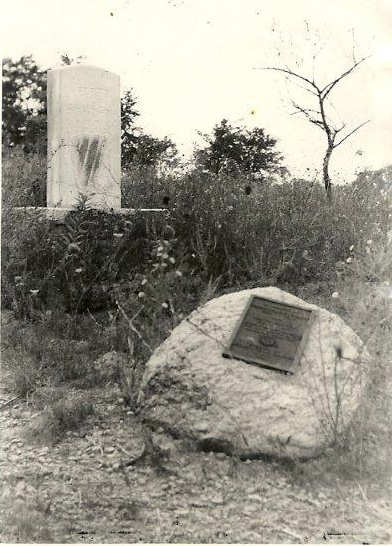 This photograph was taken sometime in 1941 by Mrs. Penhorwood's great-aunt, Lulu Boyd Coleman (1888-1962) of Champaign County Ohio. On the back of the photo was a newspaper article and hand written note. The handwritten note appears to be the full title of the article, "Monument is Dedicated - Site of First Church and First Burial Grounds are Marked by Plaque." Unfortunately, no name of the newspaper or date of publication is included. I have transcribed the article below:

More than 100 persons gathered at the historic Curl burial grounds, between East Liberty and Middleburg Sunday afternoon, for the impressive program, marking the unveiling of a historic memorial to the first church and burial ground in Logan county. The site chosen is that on which, in 1805, the Darby Creek Meeting was organized by the group of Quakers or Friends.
The monument, made by Elijah Denny, of Iron City, from cement and white marble sand, is marked with the letters "First Church, 1805" and in its base, has parts of a millstone used by Job Sharp, pioneer settler, and of the hand made brick taken from the cellar kitchen of the Dr. Phebe Haines Sharp residence.
The program was in charge of H. C. Marmon, of Bellefontaine, and music was furnished by a quartet from the Goshen Friends Church, near Zanesfield, and by Heber Henke, who led group singing. O. K. Reames, read a description of the first church and first burial ground in the county, prepared by him, and Rev. Harry W. Randall, pastor of the Goshen Church, had charge of the devotional services and made a dedicatory address.
The unveiling was accomplished by Mrs. Dow Aikin, of Bellefontaine, and by Rex Antrim, of Reynoldsburg, and Mrs. Irma Antrim Heath, of Middleburg. The latter two are great-grandchildren of Rev. Thomas Antrim, pastor and founder of the first church of this county.
---
Contributed for use by the OHIO ALHN. These electronic photographs may NOT be reproduced in any format for profit or presentation by other organizations or persons. Persons or organizations desiring to use this material, must obtain the written consent of the contributor, or the legal representative of the contributor, and contact the listed webmaster with proof of this consent. The submitter has given permission to the OHIO ALHN to store the file permanently for free access.
---
Return to Logan County Index
Return to Ohio ALHN Photo Album