Owner/Contributor:

Ross Jackson


MESSAGE OF SYMPATHY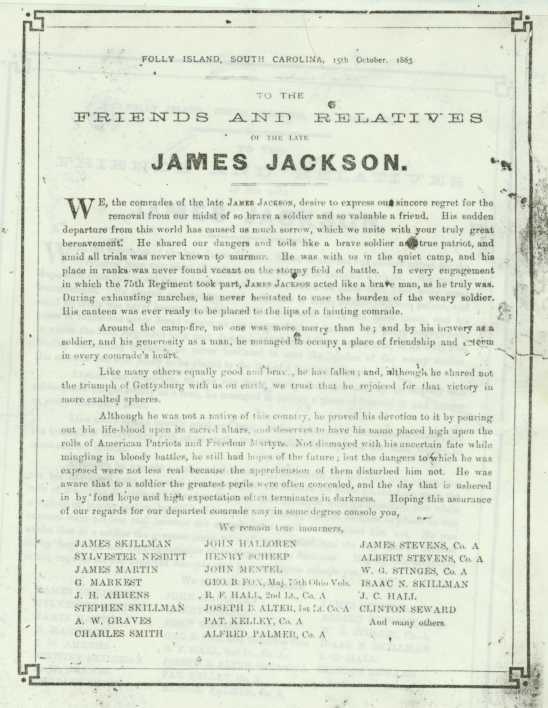 FOLLY ISLAND, SOUTH CAROLINA, 15th October 1863

TO THE

FRIENDS AND RELATIVES
OF THE LATE
JAMES JACKSON
WE, the friends and comrades of the late JAMES JACKSON, desire to express our sincere regret for the removal from our midst of so brave a soldier and so valuable a friend. His sudden departure from this world has caused us much sorrow, which we unite with your truly great bereavement. He shared our dangers and toils like a brave soldier and true patriot, and amid all trials was never known to murmur. He was with us in the quiet camp, and his place in ranks was never found vacant in the stormy field of battle. In every engagement in which the 75th Regiment took part JAMES JACKSON acted like a brave man, as he truly was. During exhausting marches, he never hesitated to ease the burden of the weary soldier. His canteen was ever ready to be placed to the lips of a fainting comrade.
Around the camp-fire no one was more merry than he; and by his bravery as a soldier, and his generosity as a man, he managed to occupy a place of friendship and esteem in every comrade's heart.
Like many others equally good and brave, he has fallen; and, although he shared not the triumph of Gettysburg with us on earth, we trust that he rejoiced for that victory in more exalted spheres.
Although he was not a native of this country, he proved his devotion to it by pouring out his life-blood upon its sacred alters, and deserves to have his name place high upon the rolls of American Patriots and Freedoms Martyrs. Not dismayed with his uncertain fate while mingling in bloody battles, he still had hopes of the future; but the dangers to which he was exposed were not less real because the apprehension of them disturbed him not. He was aware that to a soldier the greatest perils are often concealed, and the day that is ushered in by fond hope and high expectation often terminates in darkness. Hoping this assurance of our regards for our departed comrade may in some degree console you,
we remain true mourners,
JAMES SKILLMAN
SYLVESTER NESBITT
JAMES MARTIN
G. MARKEST
J. H. AHERNS
STEPHEN SKILLMAN
A. W. GRAVES
CHARLES SMITH
JOHN HALLOREN
HENRY SCHEEP
JOHN MENTEL
GEO. B. FOX, Maj. 75th Ohio Vols.
R. F. HALL, 2nd Lt., Co. A.
JOSEPH B. ALTER, 1st Lt., Co. A
PAT. KELLY, Co. A
ALFRED PALMER, Co. A
JAMES STEVENS, Co. A
ALBERT STEVENS, Co. A
W. G. STINGES, Co. A
ISAAC N. SKILLMAN
J. C. HALL
CLINTON SEWARD
And many others.
DOUBLE SIZE VIEW
(235 KB, could require a long time to load)
---
Contributed for use by the OHIO ALHN. These electronic photographs may NOT be reproduced in any format for profit or presentation by other organizations or persons. Persons or organizations desiring to use this material, must obtain the written consent of the contributor, or the legal representative of the contributor, and contact the listed webmaster with proof of this consent. The submitter has given permission to the OHIO ALHN to store the file permanently for free access.
---
Return to County Index
Return to Ohio ALHN Photo Album
This page was last updated on .