Early Franklin County Homesteads
Originally published in the Franklin County Historical Society Bulletin about 1950
Every effort has been made to locate any possible copyright holder; none has been located.
No copyright infringement is intended.
---
THE CHRISTOPHER SHOEMAKER HOMESTEAD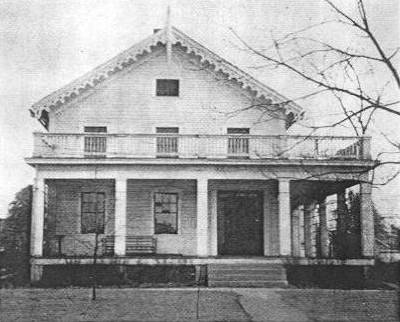 The builder of this homestead, Christopher Shoemaker, devoted his entire
life to the development of Columbus and Franklin County.
Located at 1192 Cleveland Avenue is the old Shoemaker homestead now occupied by a granddaughter, Mrs. Frank Gardner. (Cleveland Avenue was then Harbor Road.)

The house stands back from the street and will not be noticed unless special effort is made to locate it. The framework of sturdy oak and the siding of Ewe trees obtained from the swamp land near Johnstown, Licking County, is well preserved as are the large sapling rafters. Twelve rooms and two large halls comprised the original house which was completed in 1849. What is now Lockwin street, on the south side of the house, was the drive to the carriage and ice house to the rear of the homestead.

About 1843 Mr. Shoemaker, Theodore Leonard, and Windsor Atcheson formed a partnership in the brick business which continued for sixteen years. At the expiration of that period the firm dissolved and the partner each took an equal share of 175 acres of land which was the beginning of the accumulation for each of them of a large tract of land. The partners engaged in farming, orcharding, stock raising and in the brick business.

16