Early Franklin County Homesteads
Originally published in the Franklin County Historical Society Bulletin about 1950
Every effort has been made to locate any possible copyright holder; none has been located.
No copyright infringement is intended.
---
THE LOCKBOURNE TAVERN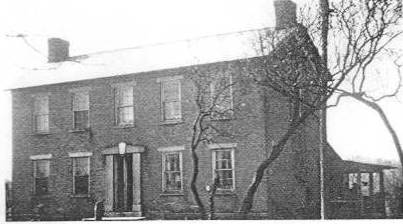 The Lockbourne Tavern—a reminder of the halcyon days of the canal.
This two-story brick house, originally and for many years tavern, is interesting for several reasons. One of the oldest houses Lockbourne during the halcyon days of the canal, it was the rendezvous of gamblers. schemers and counterfeiters.

The village came into existence in 1831. when it was laid out by Col. James Kilbourne as the agent of Joel Bottles, Demas Adams, and others. The tavern was built soon after 1831 and almost immediately became the center of activity in the village. The inscription on the name plate above the door is illegible but from the best interpretation that can be made the name is "Josiah Hiler" and the two dates, one "5852" and the other "1852." These dates indicate that Hiler was a Hebrew. (The Hebrew calendar was consulted.)

There are many features about this old inn that arc interesting and have remained unchanged through the yea". The nine windows facing the front contain 12 small panes each. The name plate containing the name and dates is of peculiar geometric design and is of white marble. The heavy cumbersome door lambs are of native sandstone and a large slab of the same material forms the step to the front door. A large heavy millstone, almost hidden by dirt and grass, lies in front of the door slab.

1