Columbus, East High School
Hand Book--1933/34
---
WEBMASTER'S NOTE: This handbook was removed from a scrapbook and made its way to me. I was never a student of East High Schol and know nothing of it's history. This handbook is presented here to be enjoyed by those who find it. The hand book is a part of the history of Columbus as surely as is the charter creating the city. It was originally the property of Mea Copperider (24 Apr 1919 - 25 Apr 2003).

In the pages of this little booklet (3 inches by 5 inches) is a brief history of the school and photographs of the school, the principal, the only faculty member who was one of the original faculty, and more. There is a complete list of the faculty with penciled in notes made by Mea Cooperider. Also, sprinkled throughout the pages are the names of students who had won past awards, both academic and in sports.

All the pages are actual size; if you would like to view a larger version simply click on the image of the page. There is no larger version of the cover below.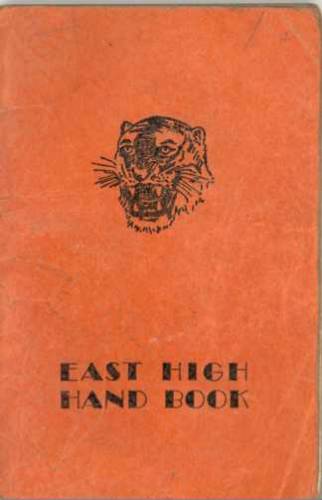 NEXT

This site is owned & maintained by


© Leona L. Gustafson 2004-2017
All rights reserved.
All original content found on these pages is copyrighted by the submitter/author and all rights are reserved