FRONT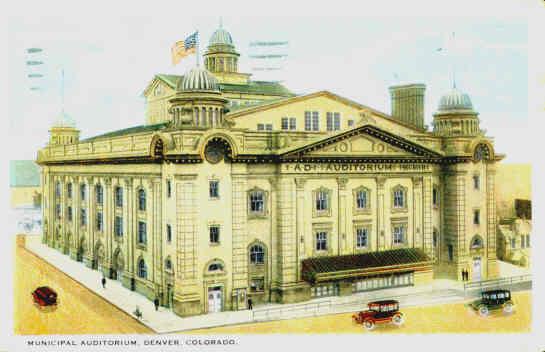 BACK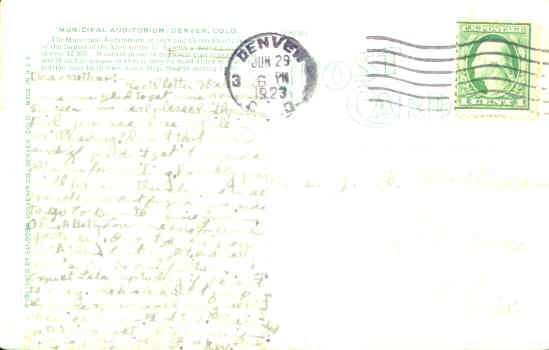 MUNICIPAL AUDITORIUM, DENVER, COLO.
The Municipal Auditorium at 14th and Curtis Streets is one
of the largest of the kind in the U. S. with a seating capacity
of over 12,000. It contains one of the finest pipe organs in the
world and is unique in that it may be subdivided to that one
portion may be thrown into a large theater seating 3,000.

Postmark:
3 DENVER, COLO.; JUN 29, 6 PM, 1923

Addressed to:
Mrs. J. C. Wallace, Shreve, Ohio

Message:
Dear Mother:-Rec'd letter Wed and sure was glad to get some home news.
Savilla was real pleased with picture. Did you see Close while in Millersburg?
I want that soon and if you don't get it suppose I'm in for writing. Probably you
will have another chance to see Henderson but for gracious sake to go to B____
to inquire for him. Olive & Betty Lou were here for lunch yesterday. I went
downtown with them last night. Had Betty Lou's curls cut for the summer. Expect
Lela up today if she isn't to [sic.] busy. She has had a lot of company. Suppose
you are all busy seeding cherries right now? Dad too? Are invited up to Olive's
next wk to lunch if ___. Suppose you will doll up [_?_] and drive your own car. S.W.