Front: LOOKING UP 17TH ST., DENVER, COLO.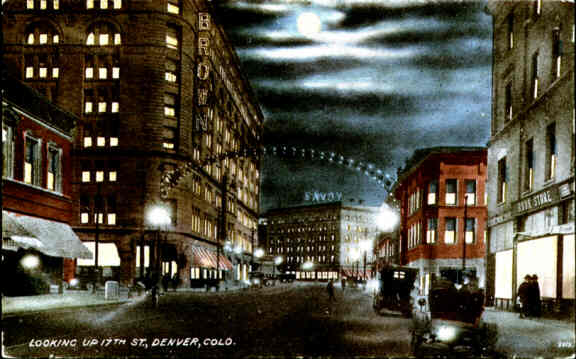 Caption on back:
Looking up 17th St. at Night. This
view shows why Denver has been given
the title "City of Lights". There is
no city in the world more beautifully or
extensively lighted than Denver. From
the mountains looking down upon the
city at night, Denver resembles a gigantic
diamond tiara spread out upon the plains
Denver the City of Opportunities,
Ask its Chamber of Commerce.

Never mailed

Message (unsigned):
I shall inquire for mail at the P. O. in D. tomorrow
before leaving there for good, and again at Salt Lake,
about Thurs. hope to get to San Fran. by Sat. night--
there is so much snow and cold, don't care to take
many mountain trips. Oh I wish you could see the
Rockies it is wonderful, never begun to realize what
a sight they would be reaching clear to the clouds peak
after peak, hundreds of them in full view from the train
as I was coming out here. Will write a letter in a
day or two, am well and enjoying myself.